The RMHUC 2012 Annual Meeting
The RMHUC held its 2012 Annual Meeting on Sunday, August 26 at the home of Sue and Ron Townsend following the traditional end-of-summer BBQ feast. Approximately 60 members were in attendance. Here are the highlights.
Last year's events: Five talks in our Speakers Series; five networking events in Boulder, Colorado Springs, and Denver; four community service events in Boulder and Denver; two joint events (one with the Colorado Yale Association, one with the Friends of Chamber Music), two athletic watch gatherings (The Game, and Harvard's first appearance in the NCAA Basketball Tournament since 1946); and our traditional summer BBQ and holiday parties.
Website: You know we did it, because you're reading this article! Our Webmaster Emeritus, Douglas Dinsmoor, was in attendance and was recognized for his persistence and dedication in getting it off the ground.
Behind the Scenes: We discussed briefly the re-organization of the Schools Committee (with thanks to John Griffin and Peter Hanson) and the RMHUC history projet.
Next twelve months: We have another community service event on September 7, The Game on November 17, Global Networking Nights in January and June, a visit to Denver by the Harvard Glee Club as part of their Spring Tour on March 22 and possibly 23, and "Harvard Serves" in April. Junko Kim is building a robust program around speakers, tours, and the like, and she gave a preview of events in October and November, which you will find on our site as details are finalized.
Mount Harvard Photograph: One of the happier developments of the past year is locating a great photograph of Mt. Harvard. Jeremy Rhoades, the photographer, has given the Club rights to use it on our Web site and in other non-commercial ways. (Our thanks to Steve Kregstein for arranging this.) We presented framed photographs to three people who have made long-standing contributions to the Club:
Anna Jones, AB '79, who served six years as Schools Committee chair, four years as President, and an additional three years on the Steering Committee, as well as numerous other contributions to the Club. (Anna was unable to attend the meeting and was presented with her photograph on August 25.)
David Thomas, AB '68, who has served the Schools Committee for over 30 years as Interviewer, Chairman, and host to countless committee meetings. Dave also was instrumental in helping the Club achieve its 501(c)3 status in the early 1980s. (Dave was unable to attend the meeting and was presented with his photograph on August 28.)
Sue Townsend, AB '80, who has hosted the summer BBQ at her home four times in the past ten years, as well as contributing generously to the Club in other ways.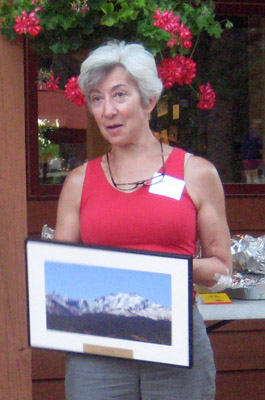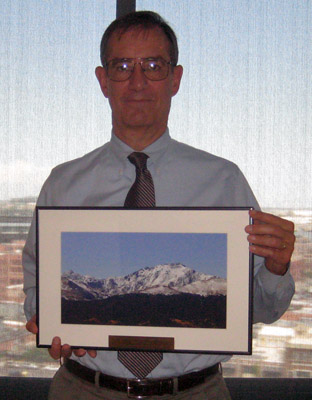 We also presented acrylic paperweights containing the Mt. Harvard photo with thanks to the following who are retiring from the Steering Committee:


Douglas Dinsmoor (shown to the right)
Michael Durall
Babette Greenwell
Peter Hanson
Anna Jones
Jeff Lakey
Diana Lawrence
On behalf of the Harvard Club of
Long Island, we presented to
Eric Eversley a plaque commemorating
his eight years of service to that Club.
Elections: In the election of Trustees and Officers, the following slate was adopted by unanimous acclamation:
Trustees:

Eric Eversley, EdD '76; Christina Gomez, JD '02; John Griffin, AB '91;
Fred Ris, AB '68; Tracey Smith, MBA '94; Phil Weintraub, AB '76

President:
Fred Ris

President-Elect:

Tracey Smith

Secretary:

Steve Kregstein, JD '72

Treasurer:

Christina Gomez

Joining these folks on the Steering Committee are Junko Kim, EdM '05; Jenny Skelton, AB '08; and Molly Thelosen, EdM '10.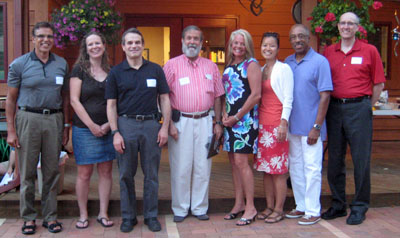 Steve Kregstein (Secretary), Christina Gomez (Trustee, Treasurer), Phil Weintraub (Trustee, Past-President),
Fred Ris (Trustee, President), Tracey Smith (Trustee, President-Elect, Membership Committee Chair),
Junko Kim (Speaker Series Chair), Eric Eversley (Trustee), John Griffin (Trustee, Schools Committee Chair)
Absent: Jenny Skelton (Young Alumni Co-ordinator), Molly Thelosen (Events Chair)
The endgame: A motion to adjourn was quickly passed, and not a moment too soon in the opinion of those who wished to return to their conversations.