Harvard Professor Bharat Anand - April 25, 2022 6:30pm MT
An online discussion on Technology and Education.
This event is free and requires registration. Please RSVP below to register.
Thank you to all who joined the meeting! We enjoyed Prof. Anand's insights and his openess to questions from Alumni on the call.
A Zoom link will be sent on April 25, 2022 to those who register by April 24, 2022.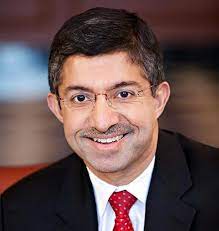 Harvard Professor Bharat Anand will present at a virtual event, sponsored by the Harvard Clubs of the Southwest Region (which includes the RMHUC.)
Bharat N. Anand is the Vice Provost for Advances in Learning at Harvard University, and
the Henry R. Byers Professor of Business Administration at Harvard Business School.

Professor Anand is an expert in digital strategy, media and entertainment strategy, corporate strategy, and organizational change. His work has examined competition in information goods markets, focusing on two central challenges that firms face in these markets: "getting noticed" amidst the increasing clutter of alternatives available to consumers, and "getting paid" for what they produce.

His recent book, The Content Trap: A Strategist's Guide to Digital Change (Random House) examines digital transformation in content industries, with a view to distilling the learnings from a quarter century of change that might inform digital efforts elsewhere.

Professor Anand's papers have shed light on the roles of branding and advertising as vehicles of matching and information, on competition between cable news networks, and on strategies that firms employ to tackle the challenge of weak or insecure property rights. In prior work, he studied the financing of R&D, the structure of technology licensing contracts, and the industrial organization of financial intermediation markets. His papers have been published in several leading journals in economics, marketing, and strategy, and received various awards.
A recent Harvard Magazine article, that features Prof. Anand, includes this quote:
'... brings a new dimension of active learning to what was a much more passive experience a decade ago. The result is the holy grail of online education—what the report calls "engagement at scale": the promise of teaching vast student cohorts without sacrificing the elements of active, participatory learning.'
The Future of Teaching and Learning - Harvard Magazine
For additional background information, please see:
Harvard Vice Provost page: Bharat Anand
HBS Faculty Page: Bharat Anand

This invitation is intended for the alumni of the Harvard Alumni Association - Southwest Region Clubs:
- Rocky Mountain Harvard University Club
- Harvard Alumni Association of Utah
- Harvard Club of New Mexico
- Harvard Club of Phoenix
- Harvard Club of Nevada
- Harvard Club of Northern Nevada and the Sierras
- Harvard Club of Southern Arizona
Please include your Club affiliation in the "Organization" box in the RSVP.
RSVP:
When:
6:30PM - 7:30PM Mon 25 Apr 2022, Mountain timezone

Virtual Event Instructions:
An email with the Zoom information will be sent on April 25, 2022 to those who register/RSVP.
RSVP Here...
Look Who's Coming:
Bill Horton
RMHUC
Molly Teas
Sunhee Juhon Hodges
RMHUC
Sarah Bridich
Robert Spagnola
Jackie Young
Nicolas Velez
Henkel Corporation
joe therrien
Jennifer Tolk
HAAU
Joe Gadd
HBS '67
John Griffin
RMHUC
Ted Tillman
Timothy Caffrey
Craig Norquist
Truman Ta
Consultant
Glenn Ricart
HAAU Utah
Alina Acosta
Denver Public Schools
N. Peter Knoll
RMHUC
Steven Jones
Ronald White
Tara Management
Tim Pearson
HAAU
Mateo Munoz
NA
Terri Adkisson
HAAU
Leland Anderson
American Heritage School
Leland Anderson
HAAU
Jen Adler
HAAU
Jen Adler
HAAU
Megan Harney
Harvard Alumni Association of Utah
Jeremy Burke
Schipper Clawson
self
Kelly Close
Close Concerns
James Ahlers
Phoenix Children's Hospital
Eliott Jones
Biospectal SA
Elizabeth Grant
Discovery Ranch for Girls
ALAN HALL
Harvard Club of N. Nevada and the Sierra
Erika Kweon
Christopher Miller
True Legacy Homes
Venkata S
SyncTape
Diane Roan
Elliott Josi
Schools Power
R Solomon
Kenneth Kaufman
Harvard University
Lilly Kuan
Andy Chao
Praveen Pandey
Buddha Institute of Technology
Veronica Ruiz
Harvard Alumni Association of Utah
Diana McDonald
Alexander "Sandy" McMahon
Southwestern Indian Polytechnic Institute
Bruce Geller
Anand Acharya
Harvard Club of Phoenix
Eric Huefner
Utah
George Durham
HAAU
Brent Manning
Utah
Aline Longstaff
James Fang
Cardiovascular Division/Dept of Internal Medicine
Wing Province
Intermountain Healthcare
Debra Kalynn Armstrong
Medo Eldin
Harvard Club of Sacramento
Jeremy Burke
BOB CHING
john foley
jvfoleymdpc
Emil Cornejo
Harvard College
Jeannie Reeth
Gregory Tang
TangMath.com
Walt Hunter
Clemson University
Kimberly Levin
Joel Susel
Drew Nelson
Rex Van Gorden
Emil Cornejo
Harvard Club of Nevada
Katherine Lawrence
Rare Pattern LLC
Robert Kuklis
RDK Consulting Services
Ramiro Montealegre
University of Colorado - Boulder
Karl Zachar
Elk Ridge Partners
Steve Kamp
Retired - Temple University
Robert Kearney
Abbey Mortgage & Investments, Inc
Irv Broudy
Harvard alum club Denver
Robert Dam
Girish Thakkar
Amazon
Robert Kuklis
RDK Consulting Services
Charles McWilliams
Retired
Debra Kalynn Armstrong
... a total of 84 guests.
Note: to opt out from this list please sign in, go to My Account and change your preferences under My RSVPs.