The Game - November 20, 2021 - Event Recap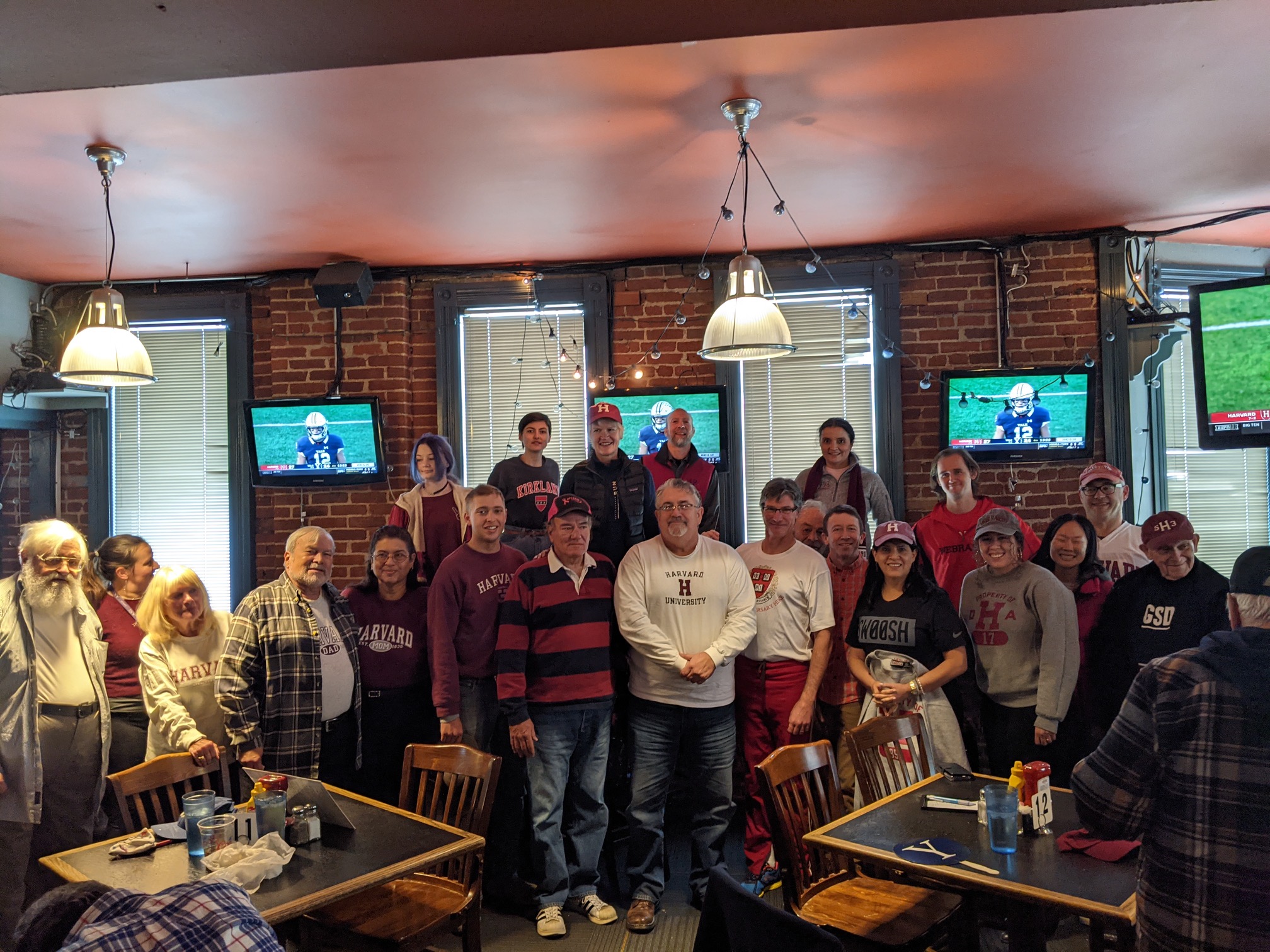 40 stalwart alums in Denver saw Harvard's football team "Fight Fiercely" and "Gain Victory Today" at the 2021 Watch Event at Brooklyn's on Colfax.

The event, organized with the Colorado Yale Association, also saw RMHUC attendees prove that "... they know that o'er old Eli, Fair Harvard holds sway" by winning the inaugural cup competitions: "Logo Wear cup" by having30 of our Harvard alums surpass the number of Yale alums in school colors; and the "Square cup" by having Harvard alums more accurately predict the game scores by quarter.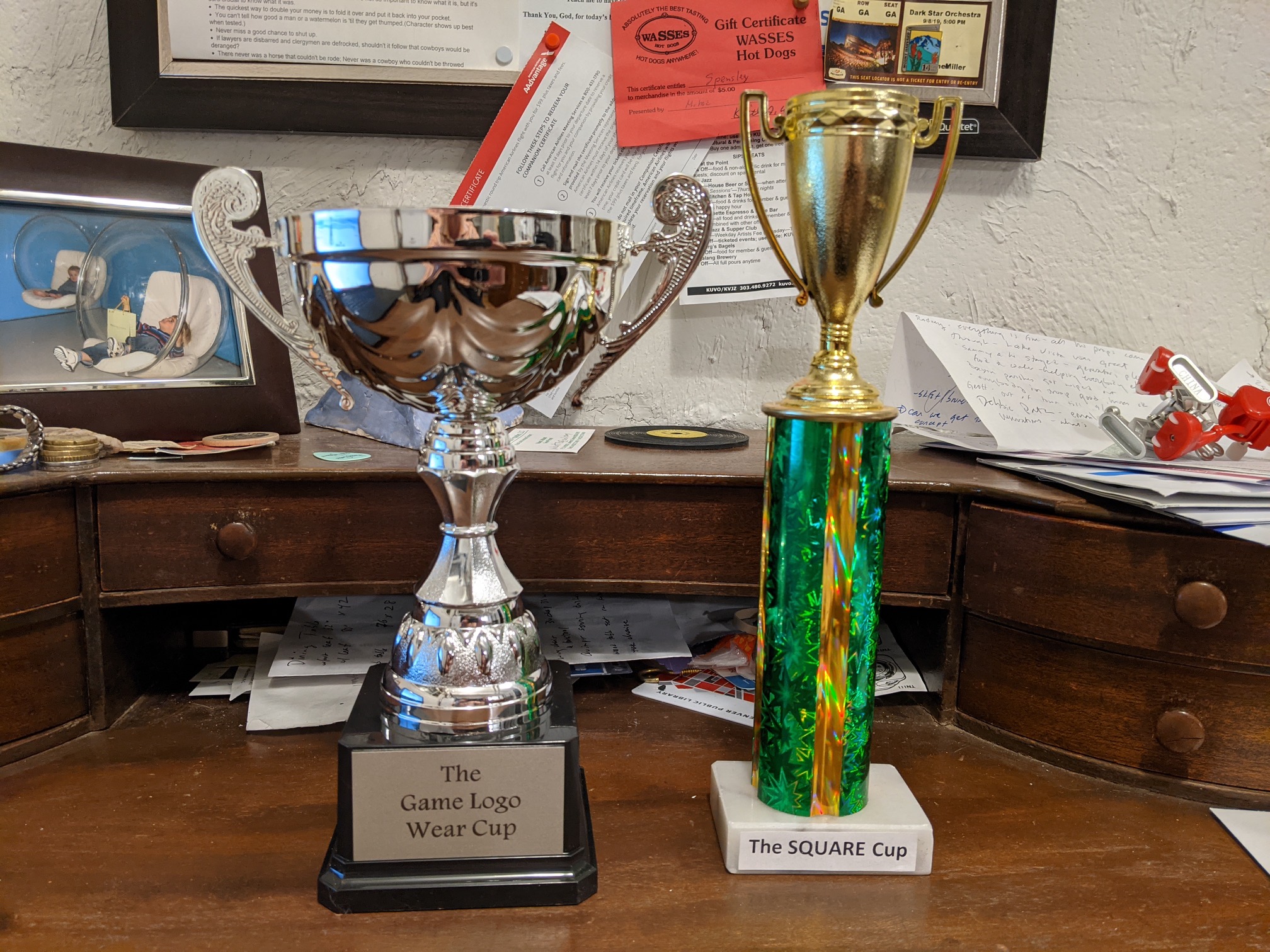 Thanks to Chris Miller for the idea for the competitions and for procuring the cups.
See you all at the 2022 Watch Event!
The Game - November 20, 2021
Harvard-Yale Game Watch Event in Denver!
Join the RMHUC and the Colorado Yale Association to watch The Game at 10:00 AM MT @ (the original) Brooklyn's (upstairs). Address: 2644 W. Colfax, Denver, CO

Join us for the return of Harvard-Yale! The 137th playing of The Game.Costs are what you order for food and drink during the event, with individual bills provided. We will have our own competitions, including the first annual "Logo Wear Cup," so dig out your Harvard gear and wear it to event!

Game time is 10:00am MT.

Be on the look out for more information! We will continue to monitor public health conditions to address safety and wellness issues.
We expect alums and their guests to act responsibly, to protect each other.
We request that attendees over the age of 11 be fully vaccinated (including appropriate boosters) two weeks before the event.
If you are not feeling well -- vaccinated or not, tested or not, masked or not -- please do not attend.
Please note: Attendees must adhere to the local and state public health orders at the time of the event.
In addition, everyone's risk tolerance will be highly selective and personal.
Alumni are asked to use their judgment as this is a bar/restaurant setting.
Please RSVP below so Brooklyn's will have enough servers available:
When:
10:00AM - 2:00PM Sat 20 Nov 2021, Mountain timezone

Where:
The (Original) Brooklyn's
2644 W. Colfax
Denver, Co 80204 United States
[ Get Directions ]
RSVP Here...
Look Who's Coming:
Bill Horton
Chris Miller
John Ries
Douglas Dinsmoor
Meg Bertoni
Winnie H
Damian Kilday
Kelly Mackey
GHX
John Bourjaily
Valarie Moses
Annie Stumpf
University of Colorado School of Medicine
Paul Washburn
Rich Steel
Marne Obernauer
Breakthru Beverage
Talia Quandelacy
Mark Feinberg
penn state
Jim Kornish
Leslie Castanuela Barnes
Colorado Conservatory of Dance
David Rochlin
Jeffrey Wheeler
Beth Steinhorn
Kelly Mackey
GHX
Jk Costello
Steadman Group
Thomas Beresford
U Colorado School of Medicine
Wayne Eads
Bryan Ferrick
HUAA
Stacey Lyne
John Griffin
RMHUC
Michelle Mian
Ahmed Salman
Chris Luke
David Benger
Federal Courts
Payal Kohli
Alan G. Gass
Jessica Gebhard
Bill Bruneau
GGE, LLC
E Brock
Charlene Emory
Charter Communications
Paul Chessin
Jen Eason
Mighty Builders
Jonathan Ritvo
Carol Mayer
Inspired Dermatology
Christina Bear
Facebook
John Bourjaily
Jim Kornish
Melissa Baldridge
Dietrich Partners
Timothy Caffrey
Karl Stecher
Retired
Kelly Stecher
daughter
Scarlett Stecher
granddaughter
Peter Walsh
Michael Gregg
Partners Group
Marvin Mayer
Sadie Sanchez
RMHUC
Sadie Sanchez
RMHUC
Peter Walsh
... a total of 56 guests.
Note: to opt out from this list please sign in, go to My Account and change your preferences under My RSVPs.