Denver Botanic Gardens talk and tour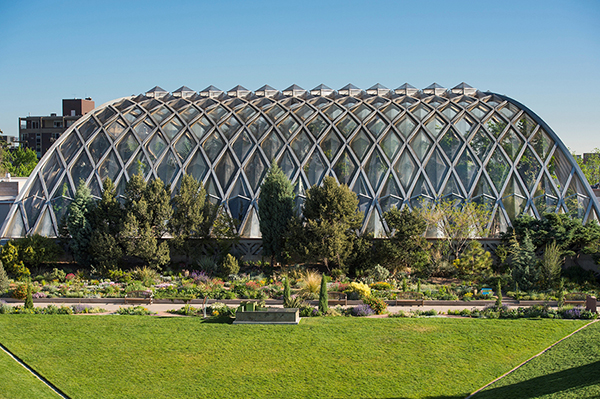 Join the Rocky Mountain Harvard University Club for a special Harvard alumni gathering at the Denver Botanic Gardens on Monday, October 10.
Start your week with a private tour of three new gardens and an architectural presentation of the concept design for the Center for Science, Art and Education (CSAE).
Monday, October 10
8:00 a.m.-9:30 a.m.
Light breakfast refreshments will be served.
Cost: $5 for lecture and tour, Denver Botanic Garden entry is free
Denver Botanic Gardens, Gates Hall
1007 York Street, Denver, CO 80206
RSVP
Click here to buy tickets!!! You must have claimed your Harvard Key to sign in.
Challenges with web registration?
Contact Christina Gomez, JD '2002: CGomez@hollandhart.com
RMHUC President
General Questions?
Contact Allyson Mendenhall, AB '90, MLA '99: amendenhall@designworkshop.com
Harvard Graduate School of Design Alumni Council Chair, Harvard Alumni Association Graduate
School Director, Denver Botanic Garden Mayoral Trustee
Schedule
8:00-8:10 a.m. Mingle and enjoy refreshments
8:10-8:40 a.m. Presentation of concept design for CSAE building design by architect
8:45-9:30 a.m. Tour of three new gardens with landscape architect
The New Gardens
The Denver Botanic Garden dedicated three new gardens in July 2016—the Steppe Garden, the
relocated All-American Select Garden, and the expanded Sensory Garden with an enhanced
focus on horticultural therapy. Emmanuel Didier, Principal of Didier Design Studio, will provide
a tour of these enchanting new spaces.
The New Building
The Center for Science, Art and Education (CSAE) will complete the master plan for Denver
Botanic Garden. Now in the concept design stage, this building will provide state-of- the-art
work space for the departments of Art & Exhibits, Science & Research, and Education as well as
gallery, auditorium and library resources. Principal David Daniel of Davis Partnership Architects
will present the proposed design.
DBG opens to the public at 9 a.m. so RMHUC members will have exclusive access to the gardens
for the first hour of the event. Attendees are welcome to stay in the gardens after the tour to
explore the grounds or stop at the Offshoots Café.
Parking & Transportation
Limited free parking is available in our parking complex between York and Josephine streets. Street parking is available in Cheesman Park, where posted.
Parking Restrictions:
Vans — Due to height restrictions, vans should park on the top deck of the parking complex.
RVs — Due to weight restrictions, RVs are not permitted in the parking complex.
Seven parking spots on the top deck of our parking complex are reserved for car2go (a shared car program) blue ­and ­white Smart cars, and mopeds/motorcycles. SPECIAL OFFER: $10 car2go membership and 60 minutes of free drive time. Visit Denver car2go to become a member and use the promotion code Botanic1060.
Try RTD buses or Denver B­cycle to avoid parking hassles. There is a B­cycle station next to our York Street entrance.
Accessibility
Most of our indoor and outdoor gardens and facilities, including restrooms and classrooms, are wheelchair accessible. Some areas in the Gardens are not wheelchair accessible without assistance. Please check with the staff in the Bonfils­-Stanton Visitor Center if you need clarification on accessible routes.
Handicapped parking is located in the Gardens' parking structure.
Wheelchairs are available at no charge on a first-come, first-served basis at the Information Desk in the Boettcher Memorial Center. Leaving a driver's license or photo ID is required. We do not offer motorized wheelchairs or scooters.
Click here to buy ticket